I visited the Osaka's financial hub on the weekend. Not so many people were on the street as it was on Saturday but this is a hustle and bustle area usually. This is one of the best Osaka's tourism destination. Beautiful flowers are everywhere on the bank of the river, so many fashionable coffee shops etc…
Osaka used to be a financial hub in Japan back to Edo period (1603-1868)
Osaka Exchange (the successor of Osaka Securities Exchange) is located to the southeast of Naniwabashi Bridge (Lion Bridge) and famous for its retro-looking building. The building features a grand white cylindrical facade and an entrance lobby with magnificent stained glass. It was designed by Hasebe-Takekoshi Architect Office and was completed in 1935. The origin of Osaka Exchange dates back to early Edo period. Around the Joo and Kanbun eras (1652-1673), the feudal lords from all over Japan established their warehouses in Osaka to store and sell their surplus tax rice. One of the most influential rice merchants was Yodoya, based in the southern part of present-day Yodoyabashi. Some other merchants gradually gathered to create one market. This market was called "Yodoya-Komeichi", which was said to be the first securities trading in Japan. Later on, the market was moved to Dojima and officially approved as "Dojima Rice Exchange" by Japan's shogunate government in 1730. At that time, rice futures trading, the trades recorded and settled in books of accounts, was mainly conducted, and it is known to be the world's first institutional futures exchange.Osaka Exchange was integrated into Tokyo Stock Exchange and become a member of Japan Exchange Group, Inc. It specializes in Futures and Options markets, inheriting Dojima DNA. On the New Year's first trading day, a ceremony is conducted in the entrance lobby, in which female workers in kimono clap hands simultaneously.
Anyone can visit Osaka Exchange, the western base of Japan Exchange Group, and study securities market including stocks and derivatives market in "OSE gallery". Tours are available for groups of ten or more (Reservation is required).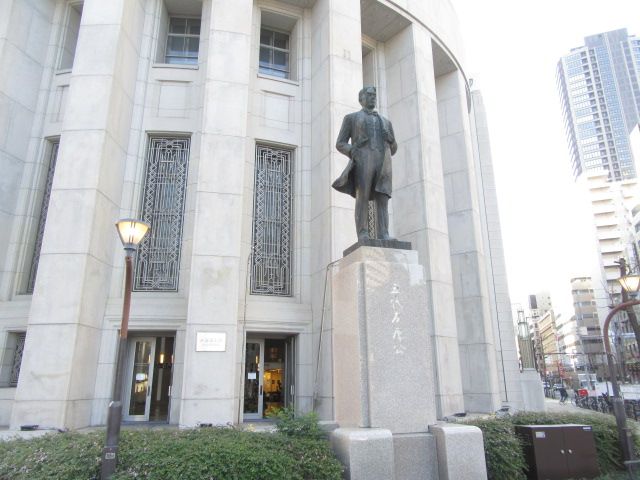 The statue of Tomoatsu Godai who found the Osaka trading security company.