Koyasan – Things to see and do
Visitors by road from Hashimoto enter Koyasan through the vast vermilion Daimon Gate, which is protected by two fearsome, wooden Kongo warriors. There are fine views over the surrounding Kii district from the Daimon Gate on a clear day.
Konpondaito Pagoda, stands 48.5 meters (159 feet), and was built as a seminary for esoteric rituals and enshrines five sacred images of Buddha. The present structure dates from 1932 as the pagoda has been destroyed by fire many times.
Nearby are Kongobuji Temple ("Temple of the Diamond Mountain"), and the Danjo Garan, which is the site of Kukai's original temple. Kongobuji Temple, was founded by warlord Toyotomi Hideyoshi on the death of his mother and is now the headquarters of the Shingon sect. Rebuilt in 1861, the temple contains screen paintings by Kano Tanyu and other painters of Kyoto's Kano School.
The Banryutei rock garden in Kongobuji Temple is the largest in Japan with 140 granite stones arranged to suggest a pair of dragons emerging from clouds to protect the temple.
Kondo Hall is supposedly the site where Kukai gave his first sermons and is regarded as one of Koyasan's most sacred places.
Reihokan is a museum treasure house containing works of art from the temples on Koyasan. The exhibits, including paintings, statues, mandala and other religious artefacts such as vajra (ritual scepters) and rosary beads, are renewed five times a year.
Daishi Kyokai (open 8.30am-5pm) – here laypeople can receive the Buddhist precepts (jukai) in a short 30-minute ceremony. The ceremony takes place on the hour, except noon.
North of Kongobuji is the Nyonindo Temple, on the road to the cable car station. Women were not allowed into Koyasan until 1873 (though the practice of prohibiting their entry continued until 1916) and this small temple marks the spot where women could worship but proceed no further.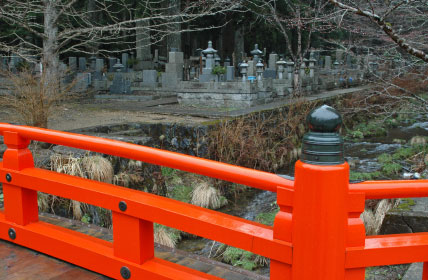 The estimated 500,000 graves in Japan's largest cemetery include the tombs of important historical figures. The most famous is Kobo Daishi, whose mausoleum is here. It is also the resting place of warlord Oda Nobunaga, and the monks Dogen, Honen, Nichiren and Shinran. War memorials and even some outlandish company tombs for major Japanese corporations (Kirin Beer, Nissan, Toyota) are also in evidence.

There are guided night walks in English through Okunoin. Tickets can be bought at Eko-in Temple and begin at 7.15pm very night, depending on the availability of a monk to guide your group, and the weather.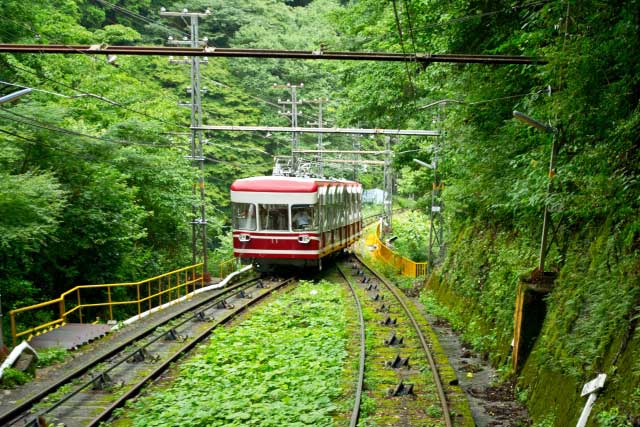 How to get there.
Koyasan is an approximately 90 minute train journey from Osaka Namba Station by Nankai Koya Line to Gokurakubashi Station and then cable car to Koyasan.

Limited Express trains take about 45 minutes from Namba to Hashimoto and then change to a local train to Gokurakubashi Station (about 40 minutes).

From Wakayama to Koyasan take the JR Wakayama Line to Hashimoto, then change to the Nankai Koya Line.

From Kyoto and Kobe to Koyasan it is quicker to go via Namba Station in Osaka. There are Kintetsu Line trains to Namba Station from Nagoya taking 2 hours or take the shinkansen to Shin-Osaka Station (50 minutes) and then change to the Midosuji subway line for connections south to Namba.

If you wish to use the Japan Rail Pass for most of your journey from Kyoto, take a JR train to Osaka Station and the Osaka Loop Line to Shin-Imamiya, then transfer to the Nankai Koya Line at Shin-Imamiya.

From Gokurakubashi Station the cable car takes five minutes to Koyasan. It costs 510 yen one way. On weekdays the first cable cars are at 5.27am with the last at 10.42pm in both directions.