Future Monorail Extension
The Osaka Monorail Line (main line) connects Osaka Airport Station to Kadomashi Station for 21.2km. The line between Senri Chuo and Minami Ibaraki opened in 1990, and the line between Osaka Airport and Kadoma City opened in 1997. Furthermore, a 9.0km extension between Kadoma City and Uryudou (tentative name) is planned, and it is scheduled to open in 2029.
The planned extension section of the Osaka Monorail Main Line is 9.0km from Kadoma City to Uryudo. On the way, we will set up additional 4 stations: Kadoma-Minami, Konoikeshinden, Aramoto and Uryudo. The one station will be set up adjacent to the Higashi-Osaka City Hall. A garage will be set up on the unused land on the Route2 to the north of Uryudo, the final stop.
At Kadoma-Minami Station, it is connected to the Tsurumi Ryokuchi Subway Line. At Konoikeshinden, it is connected to the JR Gakken Toshi Line. Connected to the Kintetsu Keihanna Line at Aramoto Station. At Uryudou, it connects to the Kintetsu Nara Line. There is no Kintetsu station at Uryu-do, but it will be installed along with the extension of the monorail.
This is important and secret new for real estate investors. So many universities are located in Higashi Osaka city. Kintetsu Nara line is served even to Kobe. Kadoma city is known for the head quarter of Panasonic. It means so many subcontractors are everywhere in these areas.
Both cities will be connected to Osaka airport.
Osaka is definitely growing. If you want to start the real estate investment please let me know.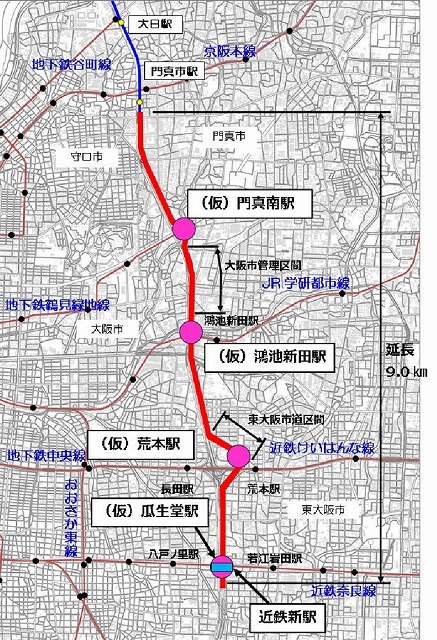 エージェントのチェックポイント
I am sorry I only have the Japanese version of the map. The only new station is Uryudo but it will be connect to Osaka air port.
Itami air port is overshadowed by KIX but still plays an important role. Even though the airport is served only for domestic but you can fly to anywhere in Japan. The airport company make a huge profit.
Like I mentioned earlier, there are a lot of subcontractors of Panasonic and big manufacturers in the map above.