A happy new year!!
I hope you will have a good year in 2021. 2020 was a very irregular year for everybody. We will lick the pandemic!! I strongly believe so. 
I just want to inform you the open house will be held on 9th and 10th.
The Japanese address is 大阪市中央区久宝寺4-5-15-307 The building' s name is New life Midosuji honmachi. 4 minutes walk from Honmachi station of Midosuji and Chuo line. 
1LDK type. 25,900,000 JPY including tax. Built in 1986. It is a condominium. The maintenance fee is 9,590 yen per month, the repair fund fee is 9,910yen per month. There is a 2 years warranty for the incoming pipe, rainy leaking and main pillars. The property is fully renovated so maintenance free. Excellent sunshine as the balcony faces the southeast. Elevator. Ok to keep a pet. 
You are more than welcomed to visit the site. Just curious is fine. It is okay you don't intend to buy a house at the moment but in the future. I can tell you the process how you will finance and buy a house or condo. Regardless of your visa status you can apply for taking out a housing loan. 
Ask me for any question. 
I am Koji Kitada. Osaka native. Licensed real estate sales person. English Speaker. 080-5349-2529.
Thank you, I hope I will see you soon!! Stay warm.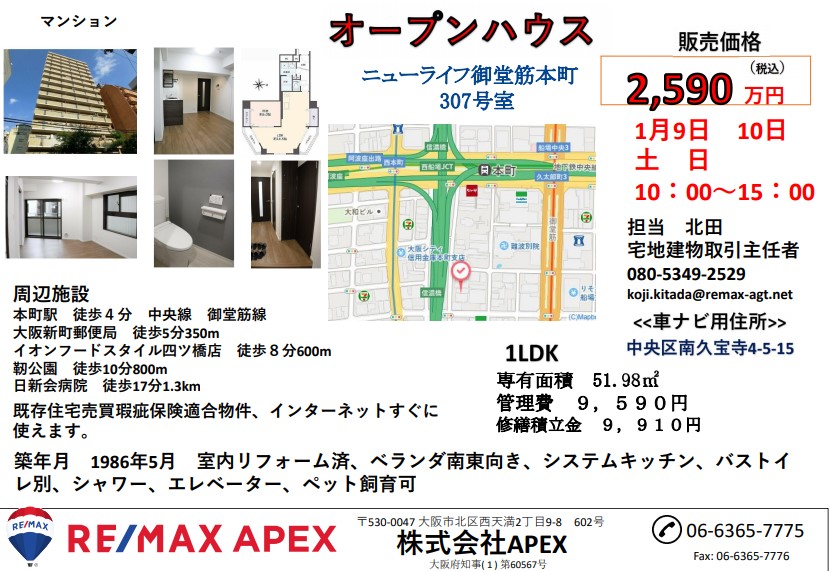 エージェントのチェックポイント