Shochu is a representative distilled liquor in Japan.

In English, it is expressed as "Shochu", "Japanese Shochu", "Japanese distilled spirits", etc.

Made from potatoes, rice, wheat, etc., it has an alcohol content of 20-45%.

Many people say, "I don't understand the difference between sake and shochu."

To put it simply, sake is a " brewage " made by fermenting rice. Shochu is a "distilled liquor" that has undergone a process called distillation based on brewed liquor made by fermenting various raw materials.

The characteristic feature of shochu is that it has a high alcohol content and a clear taste because the flavorful alcohol is extracted through a process called "distillation."
This is my favorite alcohol. I don't drink beer and sake.
How is Shochu different from Nihonshu (Sake) ?
"Sake" is a general term for alcohol beverages in Japan. Sake may be the alcohol from Japan with the most fame, but it is certainly not the only game in town when it comes to home-grown brews. If you're not the type to appreciate the nuanced flavors of sake, or are just in the mood to try something different and more potent, skip the "sake") and go for a shochu. You'll be glad you broadened your horizons.
It looks a sake but shochu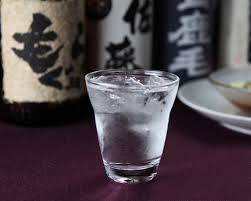 Shochu is distilled liquor, similar to brandy and vodka. However sake is categorized as fermented liquor putting it in the same category as wine.

Grapes are both fermented to make wine and distilled to make brandy. In Japan, rice can be fermented to make sake, or distilled to make rice Shochu. Before sake became famous in west, it sometimes used to be referred to as "rice wine" in acknowledgement of the resemblances between wine making and sake making.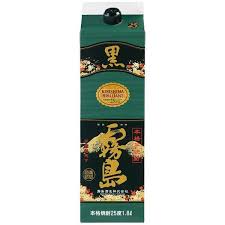 The most popular shochu in Japan is Kurokirishima (黒霧島), which is made by Kirishima brewery, Miyazaki.
It is a shochu that is always found at restaurants, supermarkets, and convenience stores.
This time we will focus on Kurokirishima.
Anybody is welcomed to talk to me over Shochu!!
All topics are fine, politics, religious, history etc.... Give me an email!!